Starcloth Hire – For Events and Weddings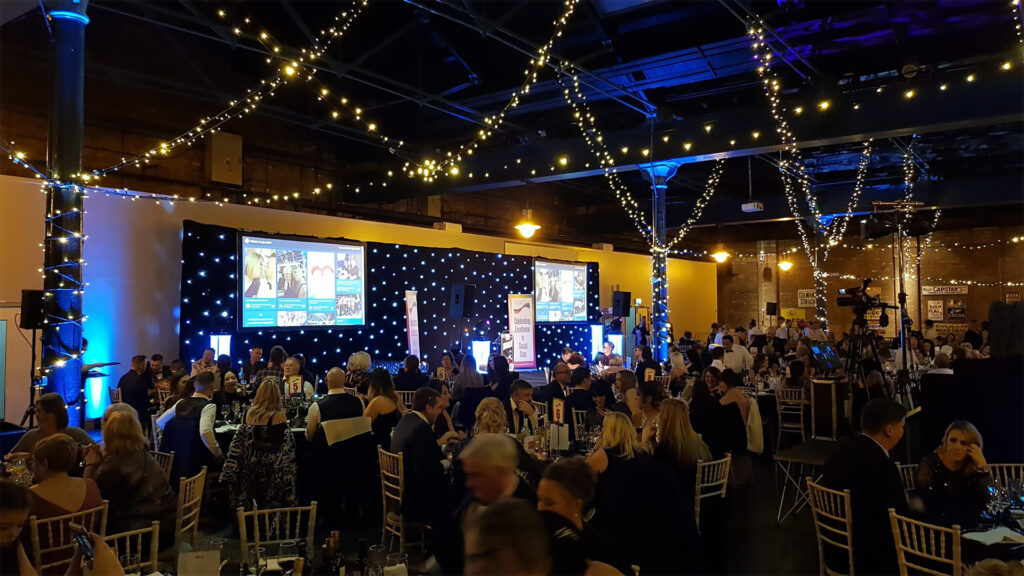 Remote AV stock an extensive range of starcloth and drapes which will give your next event impressive yet sophisticated look. Starcloth hire is available in a wide range of sizes which can be seamlessly joined so any size is achievable.
Starcloth hire is great for transforming any room into something special. Use it on one wall, as a backdrop or to completely cover a room and the resulting effect is amazing. Using Starcloth as a stage backdrop provides a great focal point and is flexible by design. We can integrate it with projection screens, stage set and lighting elements to creat an impactful stage design.
As well as the traditional black surge starcloth we can offer the hugely popular white / ivory wedding backdrop starcloth.
Some of the main benefits of using starcloth include:
Visual Experience: Starcloth adds a touch of magic, instantly captivating guests and setting the stage for your event. Whether it's a wedding, corporate event, or music concert, the visual impact of starcloth is undeniable, leaving a lasting impression on attendees.
Versatile Design Options: Star cloth offers immense flexibility in design, making it suitable for a wide range of events. We tailor Starcloth to match your vision. It comes in various sizes, shapes, and colors, allowing you to create custom backdrops, ceilings, or drapes to suit the event's unique style.
Amplifies Atmosphere and Theme. By incorporating starcloth into your event, you can instantly transform a plain venue into an immersive space that aligns with your theme and enhances the overall atmosphere. It complements other lighting effects, stage designs, and props, seamlessly tying all elements together.
Enhances Photography and Videography: In the age of social media and capturing memories, starcloth is a photographer's dream. The gentle twinkling lights provide a stunning backdrop for photographs and videos, creating visually captivating moments. Whether it's professional event coverage or guests snapping selfies, starcloth elevates the aesthetic appeal of any shot, resulting in shareable content and lasting memories.
Sets the Mood with Lighting Effects. Star cloth is not limited to static lights; it can be combined with various lighting effects to create dynamic and immersive experiences. By incorporating dimming capabilities, color-changing LEDs, and programmable effects, you can control the ambiance throughout the event, adapting it to different moments, performances, or moods.
All our starcloths are installed by our experienced technicians, so you can concentrate on enjoying your event.