Custom Event TwitterWall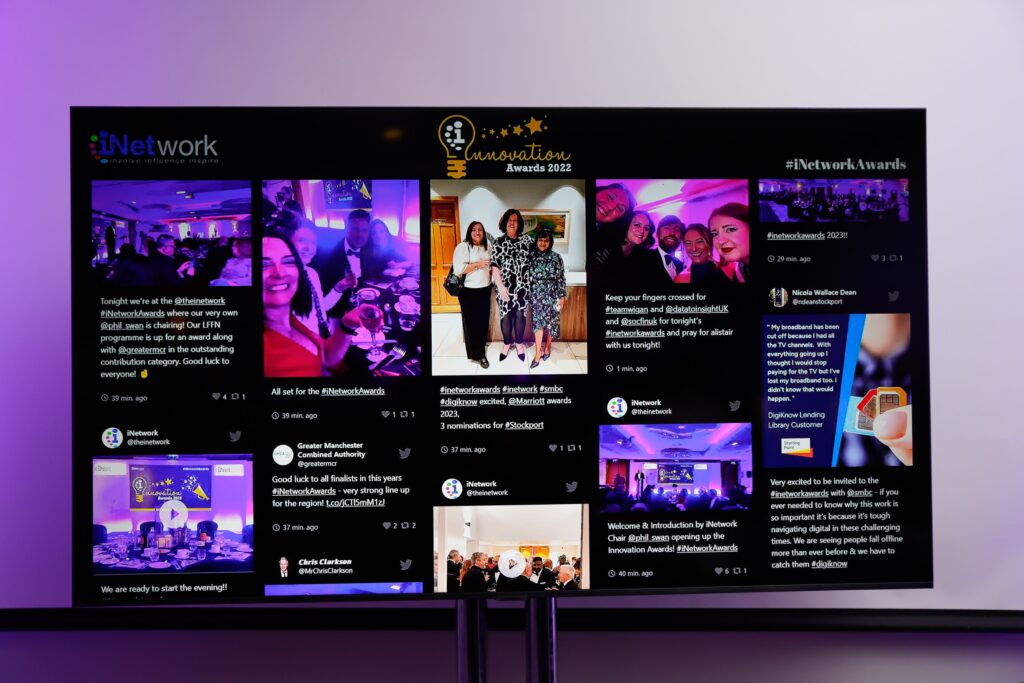 We would like to introduce you to an exciting opportunity that can enhance your upcoming event and increase guest engagement. Have you considered incorporating a custom Twitterwall into your event?
At Remote AV, we create personalised and branded Twitter feeds that are prominently displayed on the screens at your event. This unique addition adds a dynamic and interactive element to your event. It also offers numerous benefits for both your guests and your event's online reach.
Here are some compelling reasons to consider adding a custom Twitter wall to your next event:
Drive Guest Engagement: By utilising our custom Twitterwall, you can encourage attendees to actively participate in the event's conversation. Guests can post using your event's dedicated hashtag, and our system will collect and display these posts in real time on the screens. This creates a sense of community and encourages guests to share their experiences, thoughts, and photos, ultimately fostering engagement and networking among attendees.
Enhance Event Experience: The live display of tweets creates an immersive environment, allowing guests to witness the event's buzz and excitement first-hand. Seeing their own posts or comments displayed in real time sparks enthusiasm and validates their active participation, making them feel more connected to the event.
Expand Online Reach: By integrating social media with your event, you can significantly increase its online visibility and reach. When guests use your hashtag in their posts, it generates content that is shared beyond the event's physical space. This amplifies your event's exposure, reaching a wider audience and potentially attracting new attendees for future events.
Strengthen Brand Awareness: Our custom Twitter walls can be fully branded with your event's logo, colours, and theme. This branding opportunity increases brand recognition among your guests and establishes a strong association between your event and its unique identity.
Real-Time Feedback and Insights. The tweets displayed on the Twitter wall can provide valuable feedback and insights into your event's success. You can gauge attendees' sentiments, monitor their reactions, and identify areas that are resonating the most.
At Remote AV, we take care of all the technical aspects, ensuring a seamless integration of the Twitterwall into your event setup. Our team will work closely with you to understand your branding requirements and provide a customised solution that aligns perfectly with your event's vision.
To learn more about our custom Twitterwalls and how they can transform your event, please don't hesitate to reach out to us at info@remoteav.com.