Panasonic PTZ Remote Operated Camera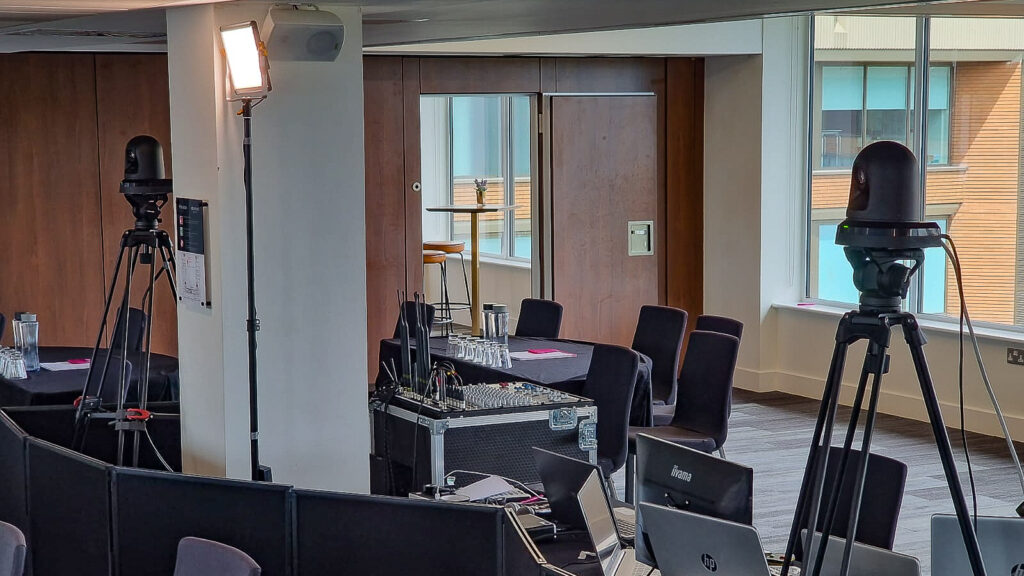 Unleashing the Power of Remote Cinematography for Unforgettable Event Experiences
Our PTZ camera system provides an excellent alternative for capturing events and conferences. The Panasonic 4K PTZ camera system boasts a smaller and more versatile footprint, allowing for greater flexibility and capturing subjects from previously challenging positions. Furthermore, with the remote aspect of the system, a single operator can switch between multiple cameras at once. This means having the ability to always keep your subject in frame, at multiple angles.
The Panasonic PTZ cameras deliver exceptional broadcast-quality images, transmitting them to a central unit through a LAN network. This centralised control enables technicians to operate the cameras conveniently from their desks or even from a remote room using ethernet connectivity. The cameras offer impressive 360-degree movement capabilities and the ability to save pre-set camera positions, ensuring swift and effortless adjustments for capturing the perfect shots.
Moreover, our PTZ camera system supports recording and broadcasting in stunning 4K video resolution. This feature allows your audience to experience remarkable detail and immerse themselves in the products or events being showcased. We also provide comprehensive production support for pre-recorded videos, live streaming and post-production. This includes editing services, ensuring that your recordings are polished and ready for distribution. This approach creates an invaluable archive that can be revisited and utilised for future purposes.
At Remote Audio Visual, we pride ourselves not only on our cutting-edge technology but also on our expertise in remote cinematography. Our dedicated team is eager to assist you in understanding how this innovative solution can elevate your future events. By embracing the possibilities of remote cinematography, you can unlock new dimensions of creativity and captivate your audience with visually compelling experiences.
To learn more about the potential of our Panasonic PTZ 4K camera system and how it can be tailored to your specific needs, please don't hesitate to contact us. Our knowledgeable professionals are ready to discuss the limitless opportunities that remote cinematography offers for enhancing your event production.