** Special Offer** Sony VPL-FHZ55 WUXGA 4000 Lumen 3LCD Laser Projector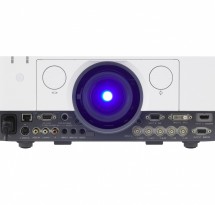 We are currently offering the latest Sony VPL-FHZ55 at a hugely discounted price, please contact us directly or purchase through our eBay store HERE
See things in a new light with the world's first 3LCD laser projector
The VPL-FHZ55 is the world's first 3LCD laser projector, delivering game-changing performance and reliability in mission-critical installation applications.
It's ideal for a wide range of installation needs, producing bright, detail-packed WUXGA images with a resolution that's higher than Full HD. So your audience only sees big, beautiful pictures, not pixels.
The environmentally-friendly laser light source is teamed with 3LCD BrightEra™ technology by Sony. You'll see the difference with superb image quality and 4000 lumen brightness, plus exceptional contrast and consistent colour stability.
What's more, the laser light source typically is rated for a typical 20,000 hours operating life – far longer than the UHP lamp in traditional projectors. Dramatically reduced maintenance requirements are complemented by a range of energy-saving feature, significantly driving down total lifetime ownership costs.
The VPL-FHZ55 fits smoothly into almost any environment – from academic institutions, corporate, medical and public sector organisations to visitor attractions and retail spaces. Seamlessly blend images from multiple projectors to create super-sized displays, or even project true, accurate images onto curved surfaces. Install the projector at any angle – even on its side or upside down. With the VPL-FHZ55, there are no limits to your creative freedom.
The VPL-FHZ55 comes as standard with PrimeSupport by Sony, a valuable package of benefits to keep you up and running without the worry of unexpected costs:
5 year collect, repair and return service for main projector unit.
First laser light projector with Sony 3LCD BrightEra™ Panel Technology

In a world first, Sony combines a highly efficient laser light source with 3LCD BrightEra™ technology. This unique combination delivers exceptionally bright, high contrast pictures with excellent colour accuracy and stability, plus high efficiency and significantly greater durability for reduced lifetime ownership costs.

Up to 20,000 hours operation with virtually no maintenance

The advanced laser light source offers a typical 20,000 hours operation without maintenance or replacement, reducing lifetime running costs compared with traditional projectors. Synchronised (20,000 hours) filter replacement cycles keep the projector in peak operating condition while reducing maintenance trips even further.

Clear, bright, punchy presentations in any lighting conditions

Add more detail, impact and realism to presentations with high 4000 lumen brightness. Get your message across clearly, even when ambient light levels are high.

Crisp, detail-packed WUXGA resolution images

See the finest detail in PC presentations, videos or multimedia signage with WUXGA (1920 x 1200) 16:10 resolution.

Up to 8,000:1 contrast ratio

Bring new levels of impact and excitement to any presentation. Sparkling highlights are brighter and whiter, complemented by incredibly deep, rich blacks and lowlights.

Wide Lens Shift, Zoom and Throw Ratio

Generous zoom, throw and lens shift adjustments give more flexibility for positioning the projector where you need it: close to ceilings, near the screen or even horizontally offset. Extend throw ratio even further with a choice of optional lenses.

360° free-angle installation capability

Enjoy supreme installation flexibility: position the projector freely at any angle – or its side or even upside down.

Create super-size displays with Edge Blending

Seamlessly join accurately colour-matched images from multiple projectors, simplifying creation of stunning super-size displays for retail, corporate and live event applications.

Project onto non-flat surfaces with Image Warping

Easily correct image geometry for natural-looking projections – even on convex or concave surfaces. Corner and edge correction can be easily adjusted with the supplied remote and on-screen menu.

Project Side by Side

Project images from two inputs at the same time: ideal for applications like video conferencing and medical training where two images need to be seen simultaneously.

DICOM GSDF Simulation mode

Get a clear view of digital medical images for training and other non-diagnostic applications. NB: Conforms to GSDF (Grayscale Standard Display Function) medical standards for DICOM (Digital Imaging and Communications in Medicine).

Save energy at the touch of a button

Just push the ECO MODE button on the projector or remote commander to instantly access a range of energy-saving settings.

Auto Dimming

Projector brightness is gradually reduced automatically if there's no input signal, or after a pre-set time – cutting power consumption and saving energy bills.

Auto Brightness

Laser output power adjusts automatically depending on picture content, saving energy when dark scenes are being projected.

Power Saving Picture Mute

Touch a button on the projector remote and the picture's muted instantly, reducing power consumption by 95%. Another touch and the projector's instantly powered back up to resume your presentation.